'O'clock tick tock'

∙ Pottery
∙ 4cm high
∙ 20cm diameter

*Here are the details about our colour options.

*Love the matte finish more? Read the reason for the price difference here.

Hanging system is included on the backside.

€ 32,50

'Ticking clocks'

∙ Pottery
∙ 4cm high
∙ 10cm diameter

*Here are the details about our colour options.

*Love the matte finish more? Read the reason for the price difference here.

Hanging system is included on the backside.

€ 29,50
Ceramic clock
Ceramic clock | If you're looking for something to brighten up a wall, my decorative plates are just the thing you need. So why not go for a plate that's been designed into a clock! My clocks tick all the boxes, beautiful and functional. This eye-catcher can spruce up a wall all on its own, or in a collection of wall plates it makes a gorgeous focal point. The colours complement each other beautifully, and the shapes flow into a fabulous, one of a kind, accent wall. It's more fun to look at the time on a clock from Atelier W!
You can order a clock in any of the colours you see below.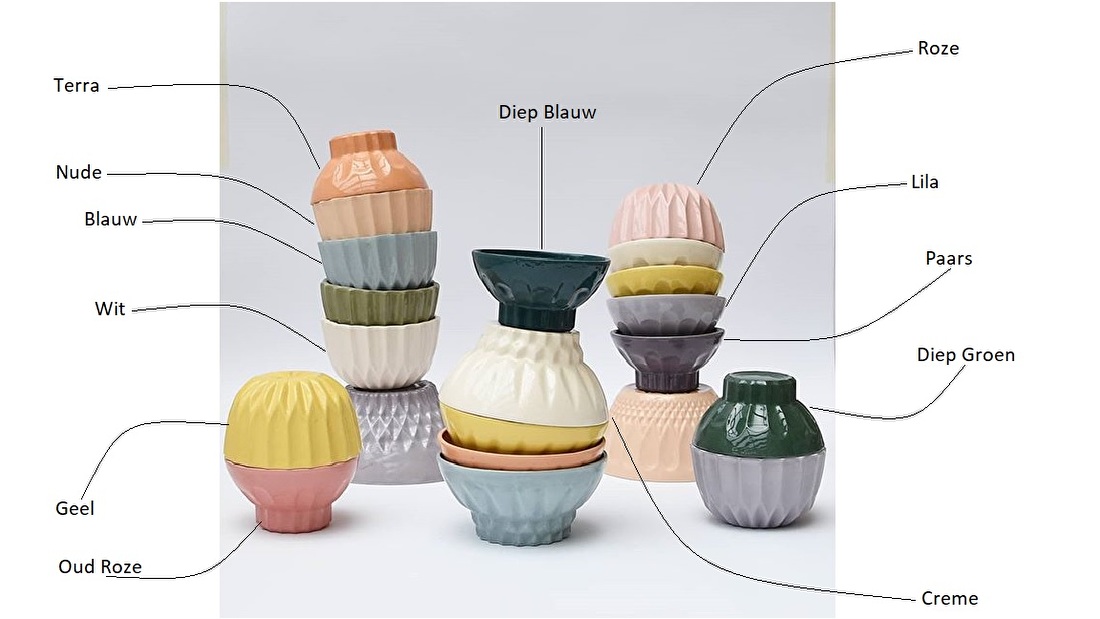 Ceramic clock: handmade with love
My entire ceramics collection can be found in my webshop. In addition to wall plates, planthangers, and figurines, you'll find my stunning handmade clocks. I find a lot of inspiration by shopping in thrift stores and looking through the old mugs and knick knacks. As the saying goes, one man's trash is another man's treasure. I use these treasures to create a mold for my designs, and then old forgotten pieces get a second chance at life. My own colour compositions give a fresh face to an old shape.
To combine
The ceramic clock looks fabulous when paired with the wall plates. With a planthanger to the side, and my dainty figurine or candle holder, you've created a corner to remember. You can add as many of these designs together as you like, they flow well because the colours match. The hardest part of creating your own wall design? There's so much to choose from! Everything you see in my webshop can be requested in different colours and variations In this way, I hope that everyone can find the perfect, one of a kind piece that they love.
About Atelier W
Repurposing is my song against the status quo of mass consumption. I put my heart and soul into every design. Every stage of the process is done by hand; making the clay, composing the right colours, and carefully finishing every detail. I love creating ceramics, every step of the way! Selling my products and offering workshops and courses, is my way of passing my love for ceramics on to others. Maybe it will spark a new passion in you!
Delivery time:
I offer delivery within 7 day, on products that are in stock.
Out of stock? I'll get in touch with you via email, maximum delivery time is 3 weeks.