'Single pot'

∙ Pottery
∙ 5cm high

For use as a plant pot or a decorative bowl.

*Here are the details about our colour options.

*Love the matte finish more? Read the reason for the price difference here.

€ 12,95

'The pot'

∙ Pottery
∙ 10cm high

For use as a plant pot or a decorative bowl.

*Here are the details about our colour options.

*Love the matte finish more? Read the reason for the price difference here.

€ 14,95

'Bowl cut'

∙ Pottery
∙ 7cm high

For use as a plant pot or a decorative bowl.

*Here are the details about our colour options.

*Love the matte finish more? Read the reason for the price difference here.

€ 14,95

'Lady pot'

∙ Pottery
∙ 10cm high

For use as a plant pot or a decorative bowl.

*Here are the details about our colour options.

*Love the matte finish more? Read the reason for the price difference here.

€ 16,95

'Flowerpot'

∙ Pottery
∙ 12cm high

For use as a plant pot or a decorative bowl.

*Here are the details about our colour options.

*Love the matte finish more? Read the reason for the price difference here.

€ 16,95

'The larger bowl'

∙ Pottery
∙ 13cm high
∙ 20 cm wide

For use as a plant pot or a decorative bowl.

*Here are the details about our colour options.

*Love the matte finish more? Read the reason for the price difference here.

€ 18,95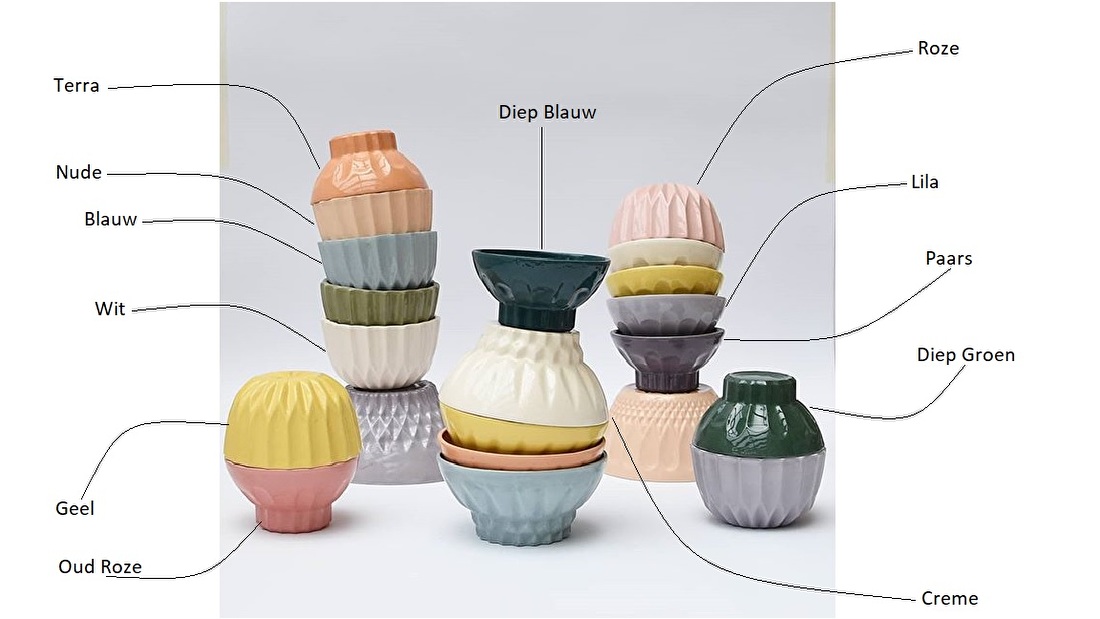 Ceramic Pottery
Ceramic Pottery| If you love the look of ceramic pottery, you're in the right place! On this page you will find all my pots and bowls. You can use them as flower pots or a decorative bowl to hold a candle, or a little treasure of your own.
Ceramic pot
The flower and plant pots of Atelier W are the perfect little addition to brighten up a space. The pots are between 5 and 10 centimeters high and best suited for smaller houseplants. The unique combination of colour, size and finish, help make the ceramic pots from Atelier W that beautiful "something extra" that you're looking for. Every pot is lovingly handmade and one of a kind.
About ceramics Atelier W
My name is Wietske, I'm the founder of Ceramics studio, Atelier W! I'm crazy about ceramics and everything that goes with it. From mixing colours and modeling clay, to making my own molds. Each plate is carefully finished by hand and I find the whole process very relaxing. I see my sculptures as a way to show my love for ceramics and my vision for recreating. With great pride, I can say they are all lovingly handmade, in my very own ceramic studio, Atelier W!
Sustainable Ceramic Workshop
I'm also proud to be able to say that as much as possible, my materials and packaging are sourced locally in Arnhem. They are recycled, sustainable and biodegradable. I try to reuse the materials as much as I can, and I've added solar panels so that my studio can produce its own electricity.